Events & Conferences
Specially Chosen Upcoming Prophetic Events and Conferences Recommended by Redding Prophetic and our Partner Ministries!
---
Fire Fall Conference – Refuge City Church – Klamath Falls Oregon – November 15-17
More Information Here >> https://refugecity.church/
November 15 – 17, 2019
Refuge City Church
2610 Shasta Way
Klamath Falls, Oregon
Speaker: Dan Mohler – neckministries.com
---
Vision New Year's Conference into 2020 – December 29-31 @ MorningStar Ministries
Being a son to The Father: The View from the Throne


Register Here >> https://events.morningstarministries.org/products/vision-new-years-conference

MorningStar Ministries
December 29 – 31, 2019
Heritage Conference Center
375 Star Light Dr, Fort Mill, SC 29715

Speakers: Mike Bickle, Diane Bickle, Misty Edwards, Lt. Gen. (Ret.) Jerry Boykin, Rick Joyner, Kelanie Gloeckler, David Vallier, MSU Worship, and more..
---
JESUS '19 – DECEMBER 29 – JANUARY 1 – #BEHOLDTHELAMB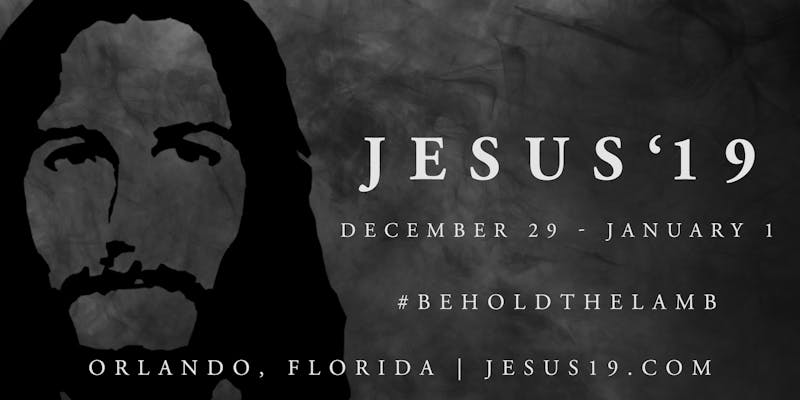 The heartbeat of the Jesus '19 is simple…experience Jesus in a life-changing way. We want the Glory of God. Encounter is what we are after. Jesus has been moving mightily in America and in the rest of the world and we are expectant for a fresh outpouring of the Holy Spirit.
The Holy Spirit placed in the heart of Michael Koulianos to bring the fathers and mothers of the faith together with a rising group of voices. This will be nothing short of a historic time.
Jesus '19 will set hearts ablaze with the beauty of Jesus, His power, and Gospel. Come hungry and He will touch you.
Jesus '19 is hosted by Jesus Image.

REGISTER >> https://www.eventbrite.com/e/jesus-19-registration-53712868636

Date And Time
Sun, Dec 29, 2019, 7:00 PM –
Wed, Jan 1, 2020, 10:00 PM
Location
Orange County Convention Center
9800 International Drive
Orlando, Florida 32819
SPEAKERS >> Michael Koulianos, Jessica Koulianos, Steffany Grertzinger, Daniel Kolenda, Benny Hinn, Rodney Howard-Browne, Lou Engle, Jeremy Riddle, Randy Clark, Johathan & Melissa Helser, Brother Yun, Todd White, Nathan Morris, Claudio Freidzon, Brian Guerin, Ben Fitzgerald, Michael Miller, John Wilds, David Popovici, Eric Gilmour, Jesus Image Worship
---
Vision 2020 Prophetic Conference – January 16 – 18, 2020 – Passion Church, Tucson, Arizona


Register Here >> https://passiontucson.org/events/vision2020/

Speakers: Dr. Kim Maas, David Wagner, Brian Starley, Dr. Bob Sawvelle, Steve Swanson
Passion Church
1212 S Palo Verde Ave
Tucson, AZ 85713
---
AWAKEN 2020 – is a massive stadium event that will take place on January 18th, 2020 with expectations on catapulting the nations into revival!
Sat, January 18, 2020 – 10:00 AM – 10:00 PM MST Sun Devil Football Stadium – 500 East Veterans Way – Tempe, AZ 85287
Register FREE Here>> https://www.eventbrite.com/e/awaken-2020-tickets-62630728194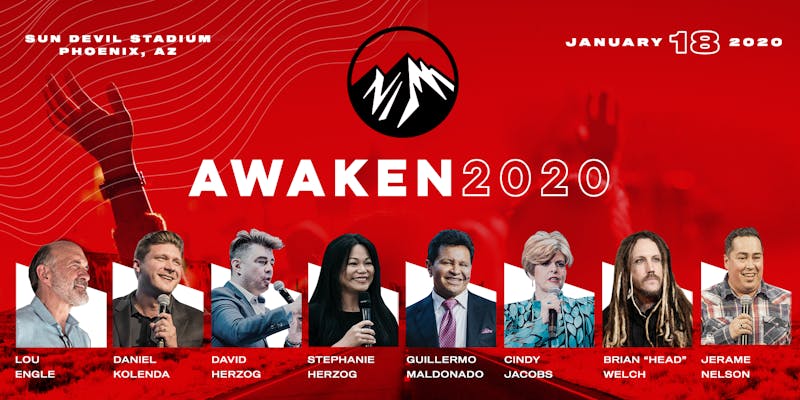 We have gathered some of the most relevant and influential generals of our time together on one stage for one day to press in for the demonstration of the Kingdom of God. Partnering with the AWAKEN2020 team we have Lou Engle, Daniel Kolenda, David Herzog, Stephanie Herzog, Guillermo Maldonado, Cindy Jacobs and Jerame Nelson as well as Brian"Head" Welch and several others. THIS EVENT CAN NOT BE MISSED!!!
AWAKEN 2020 PROMO
#AWAKEN2020
www.awaken2020.com
---
Bethel 2020 Prophetic Conference
February 19-21, 2020
If this prophetic outpouring is God's catalytic answer to this fatherless generation, then it's incumbent upon us as sons and daughters to ready ourselves for this massive global restoration! Therefore, we gather this February with a profound sense of purpose to equip the saints and prepare God's prophetic people to co-labor with heaven to experience a worldwide reformation that touches every family.
Register >> https://www.bethel.com/events/prophetic/
February 19-21, 2020
Bethel College View Campus
933 College View Drive
Redding, CA 96003
---
Firestorm 2020 – LifeCenter Ministries – Harrisburg, PA – February 27-29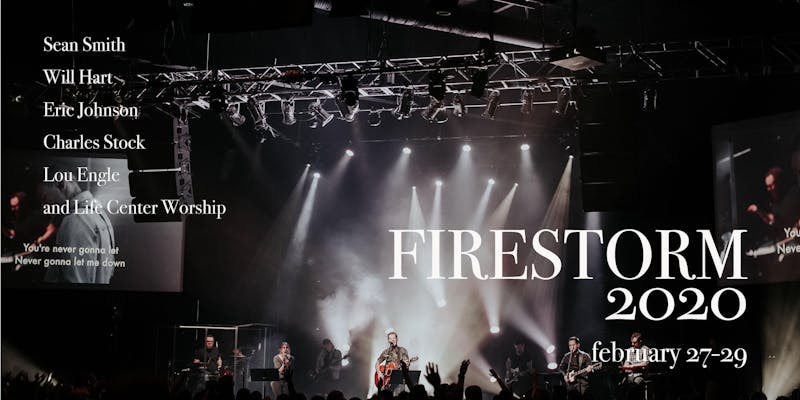 Register Here: https://www.eventbrite.com/e/firestorm-2020-registration-70952174865
Speakers: Sean Smith, Will Hart, Eric Johnson, Charles Stock, Lou Engle
Firestorm 2020 Website
411 SOUTH 40TH STREET
HARRISBURG, PA 17111
---
The Collide Prophetic Conference
April 17 – 18, 2020
In every generation, God raises up prophetic voices. These prophetic voices always help us to know what God is saying and how we're to move as the Body of Christ. The Collide would like to invite you to join us for two days of prophetic meetings. This conference is completely free but registration is required. We will have more information to come, but you can register now and stay tuned for further information.
Speakers: Cindy Jacobs, Del Augusta, and many more to be announced
Register >>
https://propheticconference.eventzilla.net/web/event?eventid=2138766213



April 17 – 18 2020 – Forerunner Christian Church – 39620 Sundale Drive, Fremont, CA, 94538, United States
---
Voice of the Prophets – APRIL 28 – MAY 1, 2020
HARRISBURG, PA
Voice of the Prophets gathers prophetic voices from across the generations to equip, build up, and unify the body of Christ. Many are asking, "What is God saying? What is His perspective?" We are in a time of cultural turmoil & disunity, but Ephesians 4 says that God is using prophets, among other gifts to bring us all into unity, maturity, and stability. We therefore present VOP as an opportunity for believers to come together and hear what God is saying from a global perspective. Come expecting to receive prophetic insight and direction both personally and corporately, reconnect with old friends and forge new lifelong friendships. Be launched into your destiny and gain a new awareness of God's strategy in the season ahead. In addition, every attendee will have the opportunity to receive prophetic ministry from Global School students.
Voice of the Prophets Information and Registration
Life Center Ministries
411 South 40th Street, Harrisburg, PA 17111
Speakers: Randy Clark, Mahesh Chaveda, Graham Cooke, Patricia King, Larry Randolph, Dan McCollam, Bob Hazlett, Charles Stock, Kim Maas, Justin Allen, Brian Starley, Steve Swanson
---
Bethel Music Presents – HEAVEN COME
May 20-23, 2020 – Los Angeles
#heavencome2020 #bethelmusic
ANNOUNCING HEAVEN COME 2020 – THIS IS WHAT IT SOUNDS LIKE

Info and Register >> https://bethelmusic.com/heavencome/
May 20-23, 2020
Microsoft Theater
Los Angeles, CA
---
THE SEND – ARROWHEAD STADIUM — KANSAS CITY, MO | OCT. 2020
#TheSend
The Sound Of GO: OFFICIAL SEND KC 2020 PROMO
Arrowhead Stadium
Kansas City, MO
October 2020
The Send Website Pre-Register – In October 2020, join 70,000 believers in Arrowhead Stadium in Kansas City as we gather to make the sound of "GO" so loud a whole generation could hear. First with our voice and then with our lives.
The Send Youtube Channel
The Send Facebook
The Send Instagram
Partners:
Lou Engle – https://louengle.com/
Christ For All Nations – https://cfan.org/
Youth With A Mission (YWAM) – https://www.uofnkona.edu/uofn/
Circuit Riders – https://crmovement.com/
Todd White – Lifestyle Christianity – https://lifestylechristianity.com/
Dunamis Movement – https://dunamismovement.com/
Jesus Image – https://jesusimage.tv/